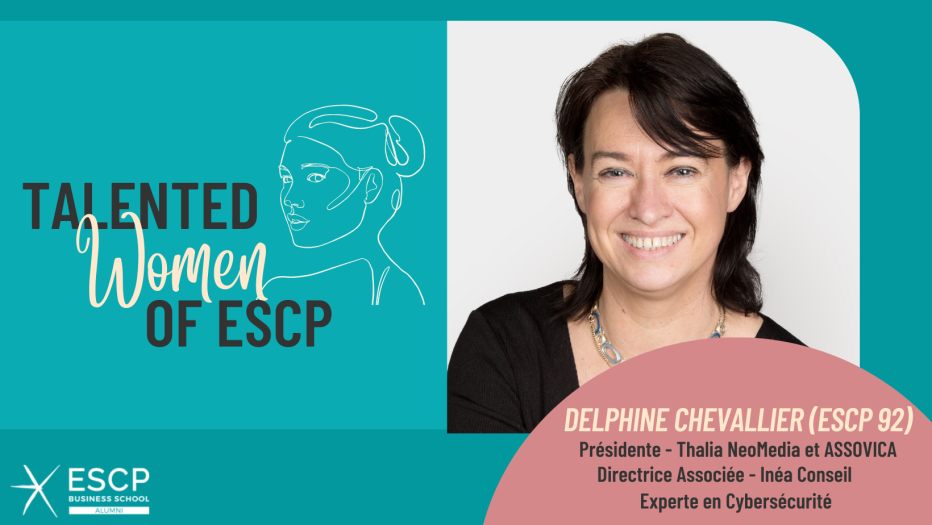 Delphine Chevallier (ESCP 92), Talented Woman of ESCP!

Viewed 301 times
With 'Talented Women of ESCP', we're shedding light on inspiring Alumna who are experts in their field. This month, meet Delphine Chevallier (ESCP 92), Chairwoman of Thalia NeoMedia and expert in Cybersecurity!.
What is your area of expertise?
I am quite an eclectic person. So I don't think I have an area of ​​expertise and predilection. I federate several of them I think even if it is true that HR and management are undoubtedly now my core expertise. With a zest of leadership, that is to say this ability to train and unite people around projects.


And what took you on this path?
I started my career in the arts. When I joined ESCP I was a dancer in a contemporary company. (…) I also took care of a law firm specializing in the rights of artists and performing arts. Then I took over the general administration of a chamber orchestra.
I then did organizational and IS consulting for the public sector. It was at this point that HR came onto my career path. (…) It was an exciting moment in my career: big projects to be piloted on a global level, such as developing training programs linked to job transitions careers that did not exist at the time and implement them on scopes of several thousand consultants.
I then joined a business law firm to build their talent strategy and their internal university on a global level. Another exciting step. At a complicated moment of life with a child to accompany in the disease.
This is where my career branched off into cybersecurity (but I didn't know it yet). The firm I worked for was affected by the NotPetya cyberattack. This experience upset me so much by our unpreparedness as a manager, that I drew a book from it (Cyberattaque : plongez au coeur du blackout ! , Cybersecurity Book Award - FIC 2023). The cybersecurity ecosystem has given this book an exceptional welcome and many encounters (…) led me to found Thalia NeoMedia, a consulting, publishing and cyber training firm. I developed original solutions to train and engage leaders and managers on these issues. Probably in synthesis of all my previous experiences. This is how I was approached to join the ComCyberGend citizen reserve. I have also just founded and taken the presidency of ASSOVICA, the Support Association for Victims of Cyber ​​Attacks


What is your best memory at ESCP?
I don't think I have ONE best memory. But rather a lot of good memories. Exciting courses: an elective on Islamic civilization, a course in market finance, those of the public management option (my final year major). I remember being picked up by an analytical accounting teacher about breaking down the costs for making a pastry! I also remember our HR course bashing (SHO pipeau). We understood quite quickly then during the first years of career that the humanities are in fact an essential key to success in business.
Of course, I also have a lot of memories of very nice meetings with people I still see today, even with whom I regularly exchange on a professional basis. And then of course the 'fiestas' (in particular a grandiose evening at the Palace, in the 90s it was a must!), another in a warehouse I don't know where in the suburbs, the Agro gala in the middle of the fields (I think about it regularly because now I live nearby!), the campaigns for the JE and BDE elections, the ESCP gala of which I was treasurer then President with the pride of having associated specialized master's students with its organization. An awesome trip to Turkey organized for us by a Turkish class student, another with AIESEC in Budapest just after the events of the fall of the Berlin Wall. A dive into a country still under the yoke of the USSR. I remember a mountain of caviar during a dinner at the restaurant; the first time I ate it. Besides, that has not been reproduced since!


To you, what does 'success' mean?
Success, on a lifetime scale, is having achieved what is most important to us, including a number of our dreams. It is very intimate and personal and in no way a conformity to a model of success imposed by society at any given time. 'To each his own way'.

What advice would you like to give to those who read you and that you would have liked to receive when you were a student or at the start of your career?
Welcoming hardships (professional or personal) as stages, cultivating our lucky stars and having confidence in this path on which life puts us while keeping our own course: "Everything happens for those who know how to wait".
---
1
I like