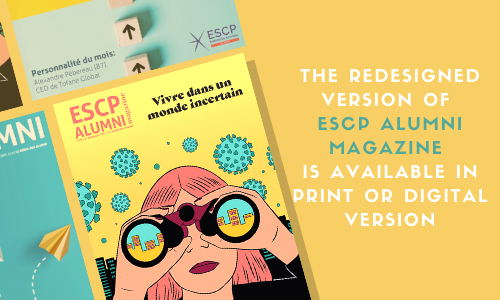 The ESCP community is characterised by its size, with increasing international travel, expatriation, students and graduates of various nationalities ...

This is why, you can find articles writen in French and in English in every issue. To be able to read it at anytime your magazine is available upon publication, wherever you are, on this website!

You can easily look through the current issue but also all the archived issues. If you want to know more about the editions please contact Linda WAKAM.


To benefit from the ESCP Magazine, you must be a member or subscribe to the magazine. To have more information please contact Murielle MAZZETTI.
Special Issue in free access!
ESCP Alumni Magazine - Special Issue


Living in an uncertain word

Cover story: analysis by Frédéric Frery (89)

Interviews with Ysaora Thibus (17), Sébastien Pacault (07), Leatitia Toupet (98)...

Story: How Alima is pushing the limits of humanitarian action?
If you are a subscribing member, please log in to your account
to have access to the online magazines issues on this page.