On the occasion of International Women's Rights Day, we are launching Talented Women of ESCP, a series of portraits and interviews of inspiring Alumna who are experts in their field. Shedding a light on the profiles of talented women to discover the diversity of our community.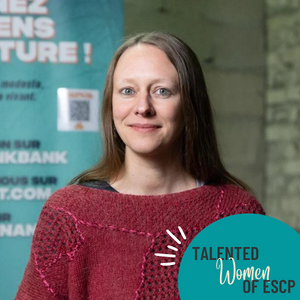 Magali Payen (09)
What is your area of expertise?
What has driven me for several years is to contribute to accelerating the metamorphosis of the world, particularly through imagination. So I have a double ambition: on the one hand, to inform, raise awareness and mobilize on the major current environmental and societal issues. This is how the On est Prêt movement was born in 2018, which brings together experts, actors in the field and artists in the service of causes that are dear to me, such as the preservation of biodiversity. On the other hand, to promote new narratives, in the service of a more desirable future. This is what led me to create Imagine 2050, also in 2018, to advise and support cultural leaders and the media in this essential paradigm shift.


And what took you on this path?
My graduation thesis was devoted to the socially engaged cinema. But it also was meetings, films, questions that accelerated my awareness. In order not to remain in amazement or bewilderment that eco-anxiety can cause, I have found only one possible way: action! Working on a daily basis to bring about a world that is fairer and more respectful of living things, what better job than that?


What is your best memory at ESCP?
The courses on Spanish cinema by Mr. Jimenez!


To you, what does 'success' mean?
Although I graduated from a business school, I do not believe in these external signs that our time wanted us to wear as the indisputable markers of success! More than status, wealth or notoriety, what comes closest to my vision of success is undoubtedly the notion of coherence, of alignment, with one's values ??and convictions, coupled with a positive contribution to the great challenges of our society.

Do you have something that we haven't mentioned that you would like to share with our ESCP Alumni Community?
We are living and will live through major global upheavals. I want to to tell these young people that more than any other generation before, it is up to them to create, to dream, to invent, to dare. Our founding myths have fizzled out, it's time for irreverence, imagination, audacity to build a future that makes sense for humans and living things.

Perhaps you would like to discuss what made you want to launch Newtopia?

Far from alarmist speeches and the darkest projections, to make every citizen want to mobilize, we must give them a view of a desirable future. This is Newtopia's raison d'être. Alongside Cyril Dion and Marion Cotillard, I founded this impact production company to highlight new imaginations and thus bring to life, through images and stories, the world of tomorrow.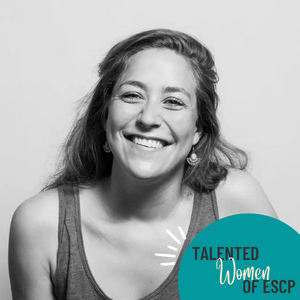 Joséphine Bouchez (14)
What is your area of expertise? And what took you on this path?
In 2014, I had not yet graduated from ESCP but I already had co-founded Ticket for Change, a social enterprise that trains and supports individuals who want to build a career with a positive impact. We support entrepreneurs in their first steps, but also students, people in retraining, or employees of large companies, to put social and environmental issues at the heart of their careers and their jobs. Ticket for Change is also a movement that wants to transform the education, training and guidance systems to make these professions useful for society and the planet, accessible and desirable! We have reached nearly 120,000 people to date. For 8 years, I have developed expertise in entrepreneurship and social innovation, educational engineering and impact measurement, hybrid economic models, as well as scaling up strategies.


What is your best memory at ESCP?
There are plenty... and they all involve something outside the classrooms :) The most memorable thing is undoubtedly the creation of an association: the Star Trekk' ESCP Europe. We wanted to make students aware of the environmental cause through mountain sports and the organization of a trek open to all. The first edition with a hundred participants was extraordinary! It was the discovery of entrepreneurship without knowing it: sharing a vision, uniting and managing a team, convincing partners, raising funds, promoting the brand... The association still exists today, it celebrated its 10th anniversary, and tickets are now selling out in just a few hours!
To you, what does 'success' mean?
For me, success is devoting your time and energy to what is essential to you, both in your personal and professional life. It's about being aligned between who you are and what you do on a daily basis. In my opinion, it is contributing to building a fairer, more equitable society, more respectful of the planet and which I will be proud to bequeath to future generations. There is work to do! It's also being able to do all of this while being in good shape, enjoying my family and friends, and living in material conditions that allow me to do what I love the most. A big challenge ;) This is a fundamental question, everyone should take the time to answer it. This is a key idea of ??the Manifesto that I co-wrote with my co-founder Matthieu Dardaillon (ESCP 2014) "What do you do for a living? Your work can make a difference for society and the planet".

Do you have something that we haven't mentioned that you would like to share with our ESCP Alumni Community?
As an ESCP Alumna, because we have a reputed degree and because most of us are in a leadership position, I think we have a particular responsibility to ask ourselves the question of the consequences of our work. Is it part of the problem or part of the solution? Are we actively contributing to building the society in which we aspire to live? We will spend an average of 80,000 hours in our life working, it's an incredible lever to change things! Yes, it is possible to reconcile career and social usefulness, material security and search for meaning, work and fulfillment! I see hundreds of examples of this every day with Ticket for Change, and I would love for the Alumni of the ESCP community to be inspired in turn by these models!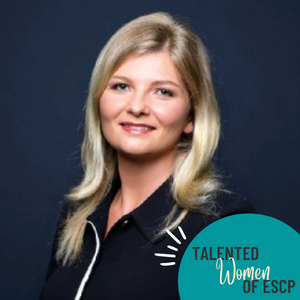 Laura Bedoucha (15)
What is your area of expertise? And what took you on this path?
I am a lawyer by training, a former lawyer. I left the Paris Bar to join the Ministry of the Interior, having always had a strong attraction for everything related to sovereign issues and more particularly internal security. I'm carrying the functions of adviser to the Head of the General Inspector of the National Gendarmerie, that is not only a legal psotion, comparable to that of a special adviser where I measure every day the interest of the notions of marketing and strategy acquired at ESCP! Our institution is indeed in full openness to the outside world!


What is your best memory at ESCP?
Without hesitation, the foundation of the Shuffle ESCP association alongside my classmates Alexandre Audi and Rémy Lombard almost as soon as we joined ESCP at the start of the 2011 academic year. We had observed that the share of foreign students in particular within the Grande Ecole program was growing without any generalist international association existing at the school! The idea was to take over from the international partnerships department to facilitate the reception of foreign students but also to promote interactions with French students by organizing educational (but also festive!) events around internationality.
To you, what does 'success' mean?
After the baccalaureate, like many, I think I would have answered this question from the angle of social and material success alone. I started my career in a large international law firm (to please mom and dad), I was very well paid but I found no sense in what I was doing. One day I got tired of watching all the documentaries and reading everything that was written about the internal security forces and I decided to take the plunge. My wallet has taken a hit, of course, I don't necessarily work less and the issues are different, but I am PASSIONATE about what I do on a daily basis. Success for me means achieving fulfillment in what you do, no longer being in a perpetual quest for something else and having found a form of serenity. For the rest, I invite you to listen to the excellent "Gatemeri" podcast launched by N'Geur Sarr (ESCP alumni) which questions the meaning of success and offers very varied testimonies on this subject.
Do you have something that we haven't mentioned that you would like to share with our ESCP Alumni Community?
We have a very diverse alumni community, reflecting the diversity of programs offered by our school. Let's not forget what our elders did for us when we were students - I have very good memories of exchanges during alumnights - so even if our respective daily lives get in our way, let's invest ourselves in their favor! I will soon be offering to become a mentor, but there is a wide range of possibilities to contribute within ESCP Alumni for the benefit of the school's influence.