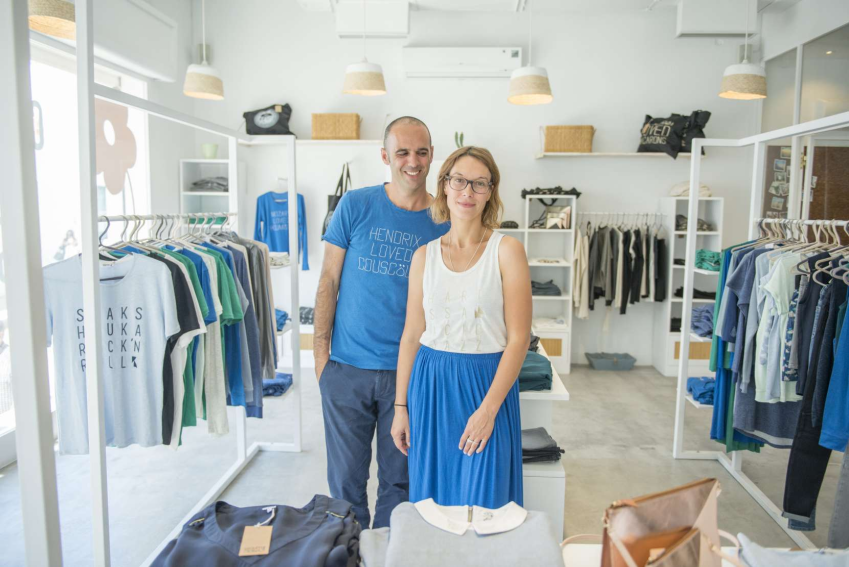 Sofiane BEN CHAABANE (04) et Claire LE MARECHAL (05), Alumni of the Month !

Viewed 319 times
Their last professional achievement got them noticed; their extraordinary career makes them stand out; they are currently making the headlines. Discover our new Alumni of the Month : Sofiane BEN CHAABANE (04) et Claire LE MARECHAL (05), creators of the Tunisian fashion brand LYOUM!
Sofiane BEN CHAABANE (04) et Claire LE MARECHAL (05)

In 2011, just after the Tunisian Revolution, Sofiane BEN CHAABANE (04) meets is soon-to-be wife Claire LE MARECHAL (05), created LYOUM, a clothing brand developed between Tunis and Paris, proposing a modern Mediterranean style. Their concept: explore an original style to stand out from classical fashion industry from Tunisia and elsewhere, and make room again for Tunisian creators on the clothing market. Wholeheartedly modern, the LYOUM collections blends genres and draws its influence from the richness of Mediterranean culture, so important in Tunisia. Claire and Sofiane have settled in Tunisia, close to the Tunisian industry and they want to connect product quality and national craftsmanship.

As of today, success has been achieved since a second store opened recently in Mutuelleville, after the opening of the first one in 2012 at La Marsa, North of Tunis. Several pop-up stores in Hammamet, Paris and London were also launched.

Before starting this entrepreneurial adventure, Sofiane had been working in advertising (Saatchi & Saatchi et BETC) and Claire in marketing (Procter & Gamble and French fashion brand La Halle). This french-tunisian couple met in Paris just after their scholarship at ESCP Europe.

Congratulation to Claire and Sofiane for their inspiring projects and we wish a long lasting success to Lyoum !
Pierre-André IMBERT (EMBA 02)

For 20 years, Pierre-André IMBERT (EMBA 02) has been leading high consulting positions on socio-economical topics both in the private sector and within French ministers' offices. After getting a Masters in Labour Economics, Pierre-André starts off his career as a teacher-researcher. His career path takes a political turn when he becomes advisor to the Presidency of the Financial Committee of the Parliament, between 1997 and 2002.


After his MBA at ESCP Europe, he spent ten years in the HR strategic consulting sector, diretcing the department of social engineering, re-orgenization and re-industrialization at Altedia. He also founded the consulting office Alixio. In 2012, after several years working in consulting offices, Pierre-André came back to public affairs as an advisor within the Ministry of Labour in charge of economical mutations and business relations. He was then appointed as director of the office of two successive Ministers of Labour. Appointed
general Inscpetor of Finances in septemebr 2016, he joined President Emmanuel Macron's team as special advisor on social topics.


Congratulations to him and his commitment in the challenges to come!
Patrice LOUVET (86)

Born in France, Patrice LOUVET (86), grew up between his native country and the United States. After graduating at ESCP Europe, he followed a MBA program at the University of Illinois. Patrice Louvet started his career at Procter & Gamble in 1989, where he had the opportunity to work on 3 different continent (Europe, North America and Asia) mainly in the company's beauty branch. Since 2015, he was Group President of the 'Global Beauty' branch at P&G, a division gathering 12 brands.
On this month, Patrice Louvet was appointed CEO of Ralph Lauren group, as a replacement for Stefan Larson. In taking the leadership of one of the most piconic American fashion brand, the french-american intends to revitalitalize the brand's prestige.
Congratulations to him, we wish him success in the challenges to come.
Boris MITTERMÜLLER (05)

An Alumnus at the head of Foodora France

The racing of Foodora's pink bicycles is now a common sight in our cityscapes. After starting his career in finance at Lehman Brothers, Crédit Suisse or McKinsey, Boris MITTERMÜLLER (05) became CEO of Foodora group for France since 2015. He now takes benefits from the intense experience of this food tech adventure: the relationships with independent couriers, the revolution for the digital economy and their future projects.


Founded in 2004 and developing first in its home market, the German company has launched in France the next year. Implemented in 10 countries around the world, 60 cities, it has more than 8 000 restaurants and 5000 couriers partners. Thanks to a young market and an increasing demand, Foodora allowed its restaurant partners to register a 30% increase in their revenues.

Congratulations to Boris, and we wish him success without losing speed!
Hassanein HIRIDJEE (97)

An Alumnus contributing to Madagascar's international outreach !

Since he has been Head of the Executive Board of Telma, the first telecom operator in Madagascar, Hassanein HIRIDJEE (97) contributes to the economical and social development of the island, creating partnership with French phone operators such to develop 3G and 4G network throughout the country. Eager to foster a spirit of innovation in Madagascar, the young French-Malgasy businessman, also CEO of Axian group, invests in all Malgasy facilities projects and services (Energy, telecom, financial and real estate services). Hassanein forged his expertise starting working for Ocean Trade, his family business, just after he graduated from ESCP Europe.

Congratulations to a man who participates in the renewal of Madagascar!
Soazig BARTHELEMY (MGE 14)

An alumna with a heart of gold

This girl from Brittany could have embraced a career in Finance, but instead, at 22, she decided to travel the world to meet women with an entrepreneurial vocation. Eager to find a meaningful cause to serve, Soazig BARTHELEMY (MGE 14) founded Empower'HER, a NGO which aims to support women initiatives worldwide and help them develop their entrepreneurial potential. To date, over 650 women have benefited from the support of the Empow'Her teams.

As a reward to this project, Soazig was included in Forbes magazine's "Forbes 30 under 30 Europe", which highlights the best European social entrepreneurs each year.

Her motto: "Go faster alone, but farther together"

Congratulations to Soazig, who promotes ESCP Europe's spirit beyond our borders! We wish a long life to her association!
Fabien NURY (98)


From comics to cinema: a renowned scriptwriter!


With the release of Guyana, the new Canal Plus show, which he co-wrote, you can no longer ignore Fabien NURY. This former editor of commercial videos, became in barely ten years, one of the biggest names in francophone comic strips. A successful author, he has published over thirty albums in various styles: historical narrative, thriller, literary adaptation. In 2015, the French comic strips' Festival of Angouleme even devoted an exhibition entitled "Fabien Nury, scenario maestro".
We therefore wish him as much success in the cinema, a genre in which he also seems to excel!

Shannon RENAUDEAU (13)

A Young Graduate with a bright future!

With the web series Jeune Diplomée (Young Graduate), Shannon Renaudeau (13) made her first notable steps in production. At only 27 years of age, this young Franco-British took inspiration from her own experience to create and self-produce by herself the first season of this show, sharing the first episodes on Facebook and YouTube. After three episodes, she was contacted by TF1, who offered to broadcast the show and support her for season 2. Honored by the press and rewarded with the Audience Award in the Humor category at the Swiss Web Program Festival 2015, Jeune Diplomée, still has great days ahead... as Shannon intends to continue the show's momentum with a third season!

Omar Victor DIOP (MSP 06)


A Senegalese photographer at Paris Photo

At 36, Omar Victor Diop, trained at ESCP Europe, and recruited by Ernst & Young as an analyst and by British American Tobacco (BAT) for its institutional affairs in Africa breaks from his career path. Passionate about photography from an early age, the self-taught photographer's gamble paid off when he exhibited at the Rencontres de Bamako in 2011. From then, it all happened very quickly: Biennale of Dakar, Rencontres d'Arles, André Magnin gallery, success is on the cards! Recently, the Pernod Ricard group asked him to photograph its employees based in Africa for its 2015-2016 annual report; pictures that were then exhibited at the Paris Photo fair this month at the Grand Palais. A great photographer whose work is acclaimed by the greatest collectors!

Lorenzo BOGLIONE (MGE 10)

An Italian brand in Spain

The young Italian was recently noticed by the Spanish press. Indeed, with the opening of new Superga shops, Lorenzo BOGLIONE (MGE 10) is about to conquer the Spanish market. At only thirty years of age, the heir to the family business Basic net steers the worldwide sales strategy of the group. His success has been to have made the Superga trainer cool in Spain. According to him "millennials don't know what loafers are" In this context, the iconic brand created in 1911 still has a very bright future!

Leïla Slimani (MSI 08)

A talented writer

Already noticed thanks to her first novel Dans le jardin de l'ogre, Leila SLIMANI (MSI 08) confirms her talent as a novelist with the publication of her new book Chanson douce. The press ranks the book as one you cannot miss in this new French literary season. The young Franco-Morrocan author is already nominated for the Renaudot, Goncourt and Flore Prizes. For the French newspaper Le Point it is "a success and a confirmation that Leila Slimani is a talented writer". An alumna to read and a literary career to follow closely!

Jean-Paul HELISSEY ( MiM student)

A silver student

Throughout the year, Jean-Paul HELISSEY has worked with an intensive schedule, alternating lectures at ESCP Europe and training at the National Institute of Sport. This summer, he went to Rio with the French Fencing Team and won the silver medal in the Men's Fencing Foil Team competition. At just 26 years-old, this MIM student who thrilled the French public, is now ranked among the great athletes that we will still hear about. Under his mask hides a true competitor!
---
I like