The north of America Alumni - the 8th annual Entrepreneur Challenge - 30 Nov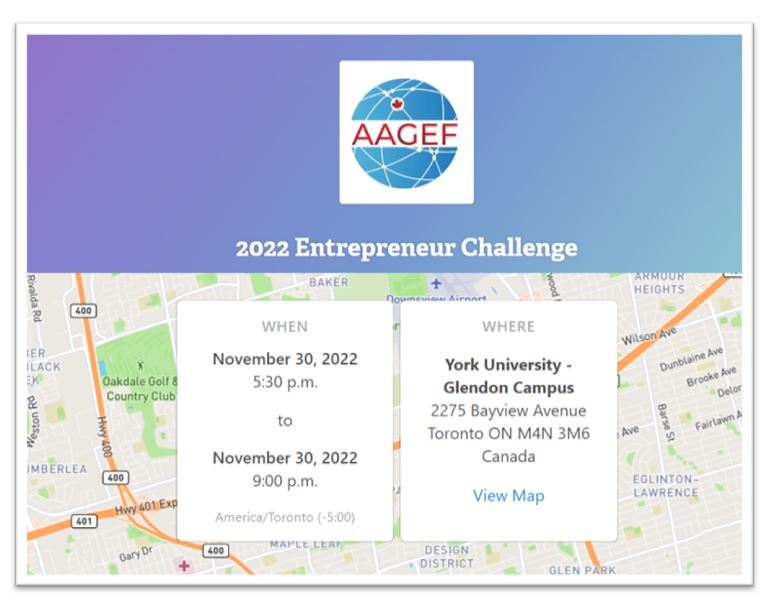 Dear Alumni
This will be the 8th annual Entrepreneur Challenge to be held in the prestigious Glendon auditorium and rooftop reception space!
Out of the 35 applications received, the selection committee picked our 3 finalists who will pitch their projects in front of the jury and the audience :
- Ajamu Attard ( Carleton U) , CEO, Student Support
- Rae Massop (UofT), Founder, Aworie Canada
- Jamie Magrill (McGill), CEO, Decap R&D
Our amazing Moderator this year will be :
- Edmond Mellina (Centrale), President, Orchango
Our esteemed Jury will be :
- Stephanie Veyrun-manetti (ParisXI), GM, Sanofi
- Dave Spagnolo(RMCC), President, Systra Canada
- Adrienne Pagot-Gerault (Agro), GM, Lactalis Canada
We will also have an update from last year finalist :
- Nadia Ladak (Ivey) , Co-Founder and CEO, Marlow
Agenda :
5:30-7:30 pm: Intros. Pitches . Q&A. Live Votes. Awards
7:30-9:00 pm: Networking
During the networking phase, you will be able to meet with them, the jury, our moderator and over 150 senior executives from Fortune 500 companies.
You can also still sponsor the future winner(s) with either cash prizes ( details when you register ) or any corporate gifts ( contact@aagefontario.org ). The Valar Institute at the Quantic School of Business and Technology is pleased to offer the AAGEF Ontario 2022 Entrepreneur Challenge winner a full scholarship to its MBA or EMBA program to supercharge his/her venture with a great education. Rum It Yourself is also sponsoring the event ! Thank you to them and join them to support entrepreneurship
Come, support and vote for your favorite Entrepreneurs ! Audience is voting live on their smartphone! Every vote counts !
Information at www.aagefchallenge.com. Open to all. Feel free to forward
Please help us by registering now at https://guestli.st/730092 by Nov 15th !
Wednesday 30th November 2022

05:30 PM - 09:00 PM
(GMT -5)
York University
2275 Bayview Ave
M4N 3R4 Toronto
Canada
York University

2275 Bayview Ave
M4N 3R4 Toronto
Canada