UK GROUP LONDON - The National Retail Federation, Feedback New York 2020 and French Tech - 25 February
GETAWAY TO RETAIL WITH THE FUTURE OF RETAIL IN SOCIETY 4.0 Chair
Dear Alumni,
On 25 February, the BearingPoint alongside with a delegation of high-level calibre panel of industry experts and relevant subject matter faculty experts invites you to take an exclusive look at feedback on the National Retail Federation Big Show 2020 which took place at the beginning of January in New York.
After many encounters, tours, demonstrations, conferences and shared experiences, the BearingPoint experts invite you to participate in this presentation giving an overview of the challenges and prospects for the sector for 2020. This event will be moderated by Prof. Olivier Badot, Scientific Director of The Future of Retail in Society Chair 4.0.
Relevant information is below (places are limited).
The event will take place: Tuesday 25th February, from 8 am to 10 am ESCP London Campus. A great opportunity to meet fellow executives and industry leaders.
If you wish to register please click on the link below or simply reply to this email.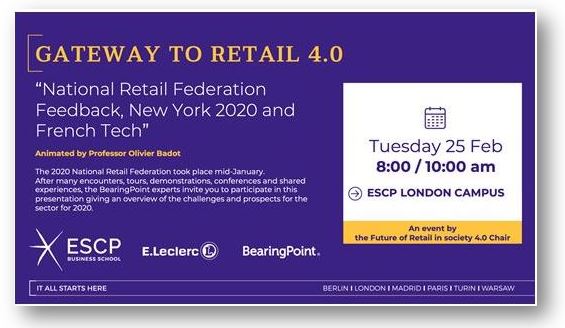 Since 2016, the FUTURE OF RETAIL IN SOCIETY 4.0 Chair has been aiming to foster forward-looking in-depth reflection on the business and retail industry of tomorrow. In an environment undergoing profound change, the Chair offers a place for teaching and debate where it is possible to promote new forms of business and discuss new business ecosystems in the era of company 4.0.
More than twenty meetings have been held at the Paris campus since 2016. In October 2019, BearingPoint joined the Chair as a partner, aiming to give it even greater European and international scope.
Also, for the first time, the Chair is coming to London providing the opportunity to explore the fascinating world of retail. The event is offered at the ESCP London Campus and Bearing Point in collaboration with our Future of Retail in Society Chair 4.0 from Paris.
Tuesday 25th February 2020

08:00 AM - 10:00 AM
ESCP London Campus
527 Finchley Road,
NW3 7BG LONDON
ESCP London Campus

527 Finchley Road,
NW3 7BG LONDON