Canada Group Alumni - Exiting the crisis successfully: tips from the experts- jointly organized with Mazars in Canada - 27 May 2020
The Mazar's experts will share their tips on how to exit the Covid-19 crisis successfully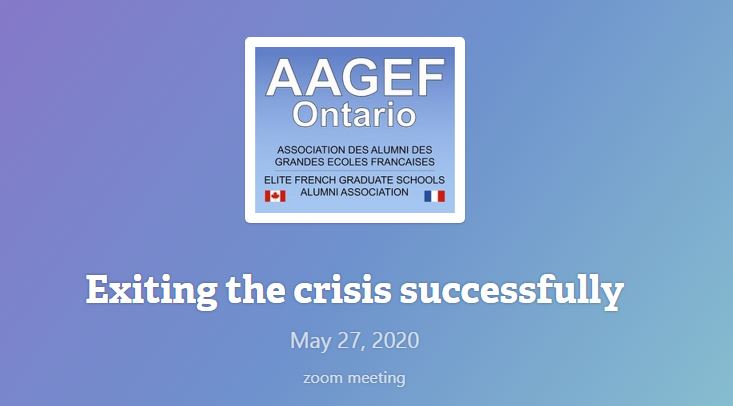 Dear Alumni,
During this webinar on Zoom, Mazars' experts will share their tips on how to exit the Covid-19 crisis successfully. They will be discussing the following topics:
The Financing and M&A Environment post crisis;

Tax opportunities; Protection of personal information:

What are the rights of employers and employees in the context of a pandemic; Psychological management:

How to prepare managers and employees for an optimal return to work;

Redefining the Post-COVID workplace.


Speakers:
Liliane Fortier, Associate Partner and Leader of Canadian Tax

Liliane Fortier is Associate Partner and Leader of Canadian Tax at Mazars in Canada. She has over 25 years of tax advisory experience, working with small and medium-sized companies operating within a wide range of sectors. Liliane has a solid expertise in corporate and personal tax planning, as well as corporate restructuring.
Michel Delisle, National Director, Talent, Culture and Marketing

Michel Delisle is National Director of Talent, Culture and Marketing at Mazars in Canada. He has over 35 years of experience helping companies with their talent management and development initiatives. He leads Mazars in Canada's efforts to recruit, assess, grow and retain top-quality, diverse talent and foster a positive organizational culture.

Philippe De Gaulle, Leader of Due Diligence Services
Philippe De Gaulle leads the Due Diligence Services practice at Mazars in Canada. He was involved in approximately 150 transactions in a wide variety of industries. His experience includes both corporate and private equity clients as well as several cross-border transactions. Philippe holds a Master's in Finance from La Sorbonne.
Spots limited to the first 90 people. The zoom link and code will be sent to those who registered the day before
Agenda:
6:30 pm - Welcome
6:40 pm - Presentation
7:20 pm - Q&A
7:40 pm - Announcement's
8:00 pm – End
Kind regards,


Bruno Lebeault
Delegate for the North of America
Wednesday 27th May 2020

06:30 PM - 08:00 PM
(GMT +2)
Zoom Conference
Canada